Note:
I've been writing poetry over this past few months by cutting-and-pasting (literally with scissors and tape) words and phrases from scholarly art-historical texts. I've posted examples on some other blogs: Fumblr and the Material Collective group blog. Here I turn that activity onto one of my own texts, a recently rejected article on ivory Virgin and Child statuettes, to both rescue something from this rejection and advance my thinking on this project by coming at it in a different way.
Embellishing Ivories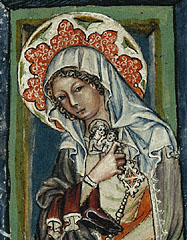 Allow us to imagine:
some ivory buttons,
an ivory comb
several ivory and silver boxes.
And a set of metal chains -
set into a gold flower on the Virgin's chest.
Gilt in her hair, red on the inside of her veil,
a green belt with gilt embellishments.
Supplemented by precious stones,
emeralds as well as an emerald,
and thirty-two pearls (one missing).
Allow to us image,
against the background of the scarcity
that just appears from behind her,
in anticipation of his death,
with unnamed images,
with its accompanying angels,
solitary figures joined by a string.
Just a casual accumulation of goods
reaches out and breaks the boundary
to perform miracles for others.
The object's miraculous potential
rests on its silver chair
and emphasizes its preciousness:
one with a jewel in its chest and the other with a silver crown.
Garments moving over her body.
Gazes directed outwards.
Boxes, buttons, combs, fans, game pieces, handles, and mirrors:
St. Christopher kept in a box.
Highly embellished objects with no embellishments.
No documents for its prior existence
preserved her hand from decay.